When I moved into the house I live in, it had a garden with no flowers. With the help from my mother and mother-in-law we made a perennial flower bed. Unfortunately, I was more busy taking care of house and children than gardening.
35 years ago, another garden was planted. It was built on a foundation of good vegetables and solid bushes, but there is a lot of weed. I could have removed the stinging nettles and thistles, but I the weed has grown bigger than my shoulders, and I let them sting my ears and forehead. Dandelion flowers are pretty, and my skin has almost got used to the stinging nettles. The weed tells me many stories. You can't, you must not, you're not good enough.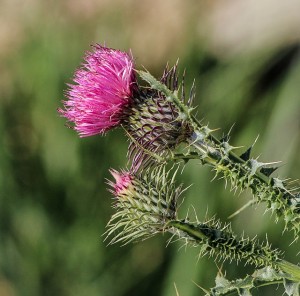 I hear the stories so often I begin to believe them. Lie becomes truth, and truth becomes lie. The stories hurt me, but I know them well, and I find it comfortable to get stung by thistles and nettles, and hide myself at feed of the weed, imaging I'm a tiny beetle crawling on the ground. The little beetle wants to dream and explore the world, but it is afraid. It's afraid of getting outside the weed, because it fears to eaten by a bird of prey. Sometimes I want to kill the weed, but the roots have become giants, and my fingers are not strong enough to remove them.
But I know other stories.
The Creator's story
I know beautiful flowers, fruit trees and crispy vegetables. I know the gentleness of spring and dew. I know sunshine. I know the creator of this 35-year-old garden. The Creator doesn't want a weed invasion. The Creator doesn't tell stinging lies. The Creator creates the world by His Word.
The Creator says: you can and you're good enough. You're precious.
The Creator has a son, and his name is Jesus. Jesus died for me, because I'm precious and loved. The Creator's story is true, and when Jesus died for me and I began to believe in him, the old me died, and I became a new person. The stories, the weed tells me, are not only false and outdated. They are dead. Therefore I must lay down the old human. I have to focus on the things, which are in heaven, not the dust in the dirt. I repent from the stories the weed told me, which gave me a false sense of comfort. I seize the faith and the hope, which God gives me for free. I don't want to be afraid anymore. I turn to Jesus and listen to his true stories and the teachings of the Holy Spirit. My fingers don't have the power to exterminate the weed, but God has the power. For God all things are possible. I will thankfully accept everything what God gives me. He has more to give me than sunshine, wind, roses and carrots. He gives me his Word, and a forgiveness which is undeserved. He gives me the peace of Jesus Christ.
He has also true stories for you. You're precious.
Colossians 3:1-17
Since, then, you have been raised with Christ, set your hearts on things above, where Christ is, seated at the right hand of God. 2 Set your minds on things above, not on earthly things. 3 For you died, and your life is now hidden with Christ in God. 4 When Christ, who is your[a] life,appears, then you also will appear with him in glory.
5 Put to death, therefore, whatever belongs to your earthly nature:sexual immorality, impurity, lust, evil desires and greed, which is idolatry. 6 Because of these, the wrath of God is coming.[b] 7 You used to walk in these ways, in the life you once lived. 8 But now you must also rid yourselves of all such things as these: anger, rage, malice, slander,and filthy language from your lips. 9 Do not lie to each other, since you have taken off your old self with its practices 10 and have put on the new self, which is being renewed in knowledge in the image of its Creator.11 Here there is no Gentile or Jew, circumcised or uncircumcised,barbarian, Scythian, slave or free, but Christ is all, and is in all.
12 Therefore, as God's chosen people, holy and dearly loved, clothe yourselves with compassion, kindness, humility, gentleness and patience. 13 Bear with each other and forgive one another if any of you has a grievance against someone. Forgive as the Lord forgave you.14 And over all these virtues put on love, which binds them all together in perfect unity.
15 Let the peace of Christ rule in your hearts, since as members of one body you were called to peace. And be thankful. 16 Let the message of Christ dwell among you richly as you teach and admonish one another with all wisdom through psalms, hymns, and songs from the Spirit, singing to God with gratitude in your hearts. 17 And whatever you do,whether in word or deed, do it all in the name of the Lord Jesus, giving thanks to God the Father through him.