Jesus does not criticize the outcast, the sinners or gentiles. No, he criticizes the religious people, the Jews who want to rule, who desire power, who point fingers at other people and say about themselves that they are so holy and good and righteous. They are judgmental and boast about themselves. Are the Pharisees and the scribes a historical phenomenon, or do they exist today?
Many Christians know the Bible well and they easily recognize other people's sin. I do believe there exist judgmental self-righteous religious Pharisees among the Christians today. I've met a few. In fact, there is sitting a Pharisee right beside me. She is not happy to admit that sometimes she accidentally points fingers at other people, sometimes she easily sees other people's mistakes, and sometimes she grieves the lack of inclusion and love among Christians. Who is she?
She is me. It's hard to admit, but I would be a liar if I told you there didn't live a Pharisee inside me. I thought or hoped I was not judgmental and biased, but I am. My wakeup call was a sermon which one of my friends had shared with me, a sermon by Tim Conway, The love for the blood bought ones.   I'm aware of the commandments of love, and that I'm commanded to love my neighbor, but I was not aware that I'm also commanded to love my brother. I'm commanded to love other Christians as I love my family. I'm commanded to love them as Jesus love them which Jesus teaches in John 13 and John 15. I have to be honest with you. I have been disappointed with other Christians, I've been searching for a loving Christian community, but what have I done myself? I am not better than anyone, I'm the biggest sinner of all. I love my Christian friends and I want to love other Christians. I should not leave the family I have in Christ. I should not give up or be indifferent. As I will always stay with my husband and children, I don't want to let down my family in Christ.
I was reminded of the foot wash the other day (John 13). Jesus knew that he would soon suffer and die, and he knew about Jude's treason. He knew all his friends would fail him and yet he didn't leave them, he never stopped loving them and he bent down. Jesus, the son of God, humiliated himself and washed the disciples' feet, and he told them to do the same to each other. Jesus told them:
"A new command I give you: Love one another. As I have loved you, so you must love one another. By this everyone will know that you are my disciples, if you love one another" (John 13:34-35)
Despite their differences and disagreements, Christians must love each other – as Jesus loves them. Jesus tells us to humiliate ourselves and serve each other. Even if we know a brother fails us, we must love him and not leave him.
As we look at the world church today, it seems broken. There are no limits to which words Christians would use to describe each other behind each other's backs. We're supposed to be different from the world and yet we judge each other's beliefs, life style, go into disputes, say about others that they are false and they are not Christians. We break apart or we just walk away or look away, thinking "I don't care." This is not love. We're supposed to love each other as Jesus loves us.
Jesus does not love sin, but he loves sinners very much. He humbled himself; he is the shepherd, who gave his life for his sheep.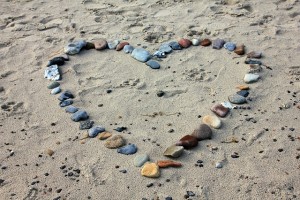 Dear reader, thank you so much for taking your precious time to read my blog post. I really appreciate you reading and I love you, my neighbor and brother/sister in Christ. I pray Jesus will heal the broken world Church. In these hard times Christians need to stand up for each other. I pray the Holy Spirit will teach us to forgive ourselves and each other and love without limits.
Therefore if you have any encouragement from being united with Christ, if any comfort from his love, if any common sharing in the Spirit, if any tenderness and compassion, then make my joy complete by being like-minded, having the same love, being one in spirit and of one mind. Do nothing out of selfish ambition or vain conceit. Rather, in humility value others above yourselves, not looking to your own interests but each of you to the interests of the others.
 In your relationships with one another, have the same mindset as Christ Jesus:
Who, being in very nature God,
    did not consider equality with God something to be used to his own advantage;
 rather, he made himself nothing
    by taking the very nature of a servant,
    being made in human likeness.
And being found in appearance as a man,
    he humbled himself
    by becoming obedient to death—
        even death on a cross! (Phill 2:1-8)