She is almost done grocery shopping and is standing in the queue to payment when she hears a small voice: "mommy…" From the sound of hear voice she knows what her daughter is up to. She has discovered her favorite candy and asks her if they can buy it? It's Monday which means there are four days to the day she can have her sweets. What is she going to choose? Will she give in to her because it's 4 pm and they're both tired and exhausted or will she tell her no?
While discussing with herself what to do, she knows deep down how her daughter feels. Last Thursday the mother went shopping. She passed by the biscuits, the cookies and the cakes. In a hurry, she passed by the chips and the soda before she stood in the queue to payment. Then she saw it. Her favorite bar of chocolate was for sale. She made an exception and bought a thing, which wasn't on the grocery list. She said to herself she was going to save it until Friday. The same evening she and her husband and were watching TV when they agreed they needed something sweet. She fetched the chocolate. In a few seconds the whole bar was gone.
The mother stops discussing with herself.  A word comes out of her mouth,  and the girl is laying on the floor screaming, because she heard the word "no."
Temptations. Every day we face many temptations.
One small piece of chocolate isn't enough. Five minutes on Facebook isn't enough. Quickly, five minutes become thirty minutes or sixty minutes. There are good things about Facebook, but for me there are more downsides. I'm not going to list them here, but I'm both the girl and the mother in the supermarket. I have to take the decision and allow the small girl in me to waste time on Facebook or listen to the mother in me who says "No!" I know what the right choice is, but the right choice is often the hardest and the most unpleasant one.
How can we overcome temptations and make the hard, but right choice?
The more serious decisions
Every day we need to take small and big decisions. Often we know what the right choice is, and even a small bad choice can have serious consequences.
Let's take a look on some of the bigger decisions.
In the middle east, in many Islamic countries, it's not safe to be a Christian. Many Christians are prosecuted, Islamic people threaten them to deny Christ and become a Muslim. Many of the Christians have families, they have small children. In the end, it's a choice between life and death. I imagine it is a hard choice to take. According to the Bible, all Christians are in danger of prosecution. The world hates Jesus, and therefore it hates his disciples (John 15:18-20)
The disciple Peter promised Jesus faithfulness and loyalty, but as people came and asked him, if he knew Jesus, Peter denies him three times (Matt 26:69-74).
Peter loved Jesus and believed Jesus was the son of God, but Peter was not a divine being. Peter is an example on our human weakness, our battles against sin and our own flesh.
It is clear that humans can't fight against sin and temptations alone. Is there no way out of temptations?
There is comfort and encouragement to find in the Bible:
"13 There hath no temptation taken you but such as is common to man: but God is faithful, who will not suffer you to be tempted above that ye are able; but will with the temptation also make a way to escape, that ye may be able to bear it." (1 Cor 10:13)
God doesn't want us to be alone in our battles. The core of our struggles is a spiritual battle "For we wrestle not against flesh and blood, but against principalities, against powers, against the rulers of the darkness of this world, against spiritual wickedness in high places." (Eph 6:12 King James Bible)
God has made a way for us. The way is Jesus.
Jesus showed us an example when he was in the garden of Gethsemane the night before he was crucified. Jesus knew what lied before him, but he was tempted. He asked his disciples to pray for and with him, but they fell asleep. Jesus knew what was the hardest but only right choice: that His father's will would happen. Jesus' soul was "sorrowful until death" (Matt 26:38), and he was tempted to fight or escape, but he endured, continuously praying
"my Father, if it be possible, let this cup pass from me: nevertheless not as I will, but as thou wilt." (v. 39).
What if Jesus had given into his own fear and fought against the chief priests and elders of the people, who came to capture him? What if he chose to escape and go underground? What if Jesus chose to break free from the cross and battled against his enemies?
But Jesus knew what he had to do. He humbled himself and was obedient to death (Phil 2:8). That night in Gethsemane, Jesus showed us an example to follow: we should pray together, pray for each other and pray to God to help us and pray that His will, not ours, will be done.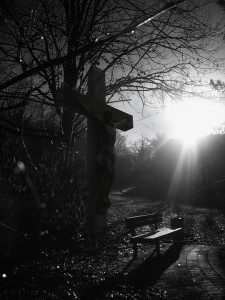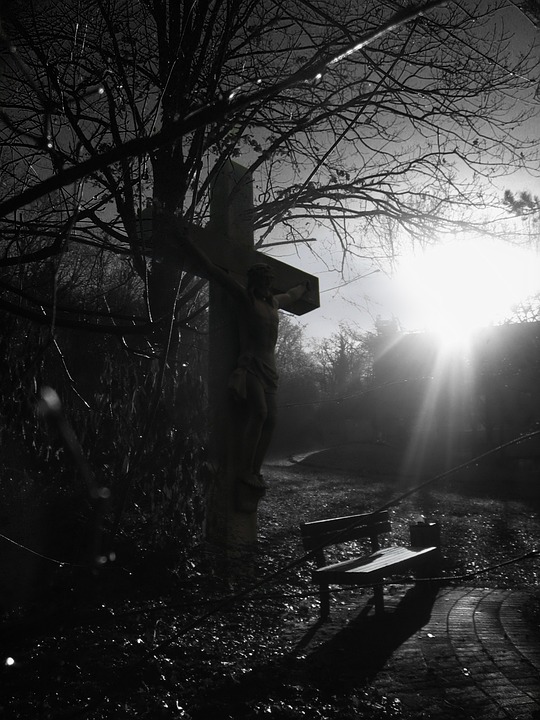 When we're tempted, we can think about what Jesus did for us and learn from the example he showed us. He fought the battle against sin, death and devil for us. He humbled himself and made the hardest, but right choice, to obey God and pray God's will be done. Because of Jesus' sacrifice we can come with boldness to God and ask him to help us.
As human beings we can't solve our problems alone. We need each other, and we really need Jesus. Remember, alcoholics, drug addicts and people who are diagnosed with a disease need Jesus and they must proceed taking their medication and receive help from a professional.