The trees will soon have lost their leaves. What should I buy him for Christmas? Maybe my car will have a flat tire again. The vacuum cleaner, the camera and the kitchen scale are broken. What will be the next thing to break? The weather forecasters predict more storms to come…It will be colder outside, snow might come, the roads will be slippery… He said today he felt sick, I hope we're not all going to have the flu. She has heard dirty swearwords, I hope she will not begin to use them too. I thought I had time, but I can't make it in time to write the Christmas series. What should I make for dinner tonight? Where did time go? It was here a moment ago! Hey…where am I driving?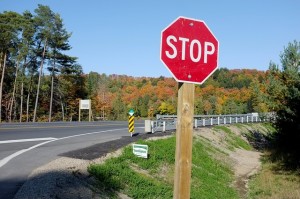 "Seek first his kingdom and his righteousness, and all these things will be given to you as well." (Matt 6:33)
Let's read the verse in context.
"No one can serve two masters. Either you will hate the one and love the other, or you will be devoted to the one and despise the other. You cannot serve both God and money.
25 Therefore I tell you, do not worry about your life, what you will eat or drink; or about your body, what you will wear. Is not life more than food, and the body more than clothes? 26 Look at the birds of the air; they do not sow or reap or store away in barns, and yet your heavenly Father feeds them. Are you not much more valuable than they? 27 Can any one of you by worrying add a single hour to your life? 28 And why do you worry about clothes? See how the flowers of the field grow. They do not labor or spin. 29 Yet I tell you that not even Solomon in all his splendor was dressed like one of these. 30 If that is how God clothes the grass of the field, which is here today and tomorrow is thrown into the fire, will he not much more clothe you—you of little faith? 31 So do not worry, saying, 'What shall we eat?' or 'What shall we drink?' or 'What shall we wear?' 32 For the pagans run after all these things, and your heavenly Father knows that you need them. 33 But seek first his kingdom and his righteousness, and all these things will be given to you as well. 34 Therefore do not worry about tomorrow, for tomorrow will worry about itself. Each day has enough trouble of its own." (Matt 6:25-34)

When someone tells me – or when God tells me not to worry, I see that as a comfort and an encouragement. This scripture makes me think about my own focus and I see how much effort I spend thinking about the past and the future. I realize it's more fruitful to live in trust and gratitude, to trust God is with me always, unto the end of the world (Matt 28:20). I can't see the future, but I pray "Our Father, your kingdom come, your will be done."
Go for a walk in the nature. Look at the trees, the horses and the cows. What can you learn from plants and animals?
What we can learn from Salomo
Salomo met God in a dream (1. King chapter 3). God says: "Ask for whatever you want me to give you." (v. 5). That is what God says to Salomo. Is God a wish fairy? Can we really have whatever we want?
This is what Salomo asks God for:
"You have shown great kindness to your servant, my father David, because he was faithful to you and righteous and upright in heart. You have continued this great kindness to him and have given him a son to sit on his throne this very day. 7 Now, Lord my God, you have made your servant king in place of my father David. But I am only a little child and do not know how to carry out my duties. 8 Your servant is here among the people you have chosen, a great people, too numerous to count or number. 9 So give your servant a discerning heart to govern your people and to distinguish between right and wrong. For who is able to govern this great people of yours?" (1 King 3:6-9)
God answers:
"Since you have asked for this and not for long life or wealth for yourself, nor have asked for the death of your enemies but for discernment in administering justice, 12 I will do what you have asked. I will give you a wise and discerning heart, so that there will never have been anyone like you, nor will there ever be. 13 Moreover, I will give you what you have not asked for—both wealth and honor—so that in your lifetime you will have no equal among kings. 14 And if you walk in obedience to me and keep my decrees and commands as David your father did, I will give you a long life." (1 King 3:11-14)
Salomo asked for wisdom and a discerning heart. He understood the huge responsibility he had as a king. Salomo sought God's kingdom and righteousness. God answered his prayer and gave him more than he asked for.
Our Father, your kingdom come.
Pray and reflect on these questions:
Who or what is the master in your life?
How can we seek God's kingdom and righteousness today?