Today I invite you to celebrate with me – and I have a gift for you. Hang on, I'll tell you more later.
Last year I began to listen to my calling.  I had to write and at the same time I began to hear a voice calling. It belonged to someone I hadn't talked to for years, and I answered: "I'm here! Where are you?" Christ found me, and He called me to follow Him and write about my walk with Him. I had to overcome many fears. I never imagined that I would create a blog with a focus on Christ. I had not imagined writing in English either. I dared not believe that some day I would write a book.
This autumn God gave me the courage to also write about Christ on my Danish blog. At the same time I received an invitation to submit a full poetry manuscript in English to a competition. I didn't win the competition, but I didn't lose either. For weeks I compiled, translated, edited and finished the poetry collection which became an ebook. I prayed to God for showing me what to do with the ebook. His answer sounded like "you've received it for free, give it away for free." This answer meant many things.
God reminded me about all the things he had given me. I was lost, but God found me and saved me. We were all lost, because we sinned, but God sacrificed his own son for us.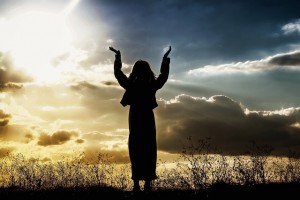 You see, at just the right time, when we were still powerless, Christ died for the ungodly. Very rarely will anyone die for a righteous person, though for a good person someone might possibly dare to die. But God demonstrates his own love for us in this: While we were still sinners, Christ died for us. Since we have now been justified by his blood, how much more shall we be saved from God's wrath through him! For if, while we were God's enemies, we were reconciled to him through the death of his Son, how much more, having been reconciled, shall we be saved through his life! Not only is this so, but we also boast in God through our Lord Jesus Christ, through whom we have now received reconciliation. (Rom 5:9-11)
It's impossible for us to save ourselves. No matter what we do we can never earn righteousness or grace. Grace is the gift from God, which we can receive and open in faith.
For it is by grace you have been saved, through faith—and this is not from yourselves, it is the gift of God— not by works, so that no one can boast. (Eph 2:8-9)
We have received it for free, God wants us to pass it along for free. We should share the grace we've received with our neighbor. We've been forgiven much and God has blessed us and showed us much love. We're asked to share everything.
God blessed me with writing, he inspired many of my words, and I wish to share those blessings with you. I've received for free, I'll give it away for free. Therefore I offer you my poetry collection, Reaching for the Light . All you need to do is subscribe to my blog and I will send the ebook to you. I expect nothing in return and you can unsubscribe any time you want. If you're already a subscriber, I've probably already sent it to your e-mail.
I can't count his precious thoughts about you
In his image
He created you
in your mother's womb
You are his child
his heir
He carried the world
and died for you

From Reaching for the Light
(c) Mariane Kvist Doktor